The equity opportunity set for emerging markets has changed dramatically over the past three decades, but institutional investors have generally not put those changes to good use in their portfolios.
When the MSCI EM Index was first introduced in 1988, it represented the economies of 10 countries. Each of these could be roughly characterized as underdeveloped but growing rapidly. Today, 31 years later, the index represents 26 economies. What's more, about 60% of global gross domestic product and about 70% of global GDP growth are attributable to EM.
But an analysis of data from eVestment by State Street Global Advisors indicated that EM makes up only about 6% of institutional investors' equity allocation, a level that seems out of line with the influence of EM in global markets, according to Altaf Kassam, State Street's EMEA head of investment strategy and research.
"Even as the composition and characteristics of emerging markets change, we believe one thing remains consistent," he said. "Emerging markets continue to offer opportunity for investors to add value to their equity portfolios. We believe that as emerging markets continue to develop and become more integrated into global markets, their influence is likely to increase."
Indexing in emerging markets
Indexed investments in emerging markets have been gaining popularity in recent years. And market cap-weighted indexed strategies can be helpful as a source of liquidity. Cap-weighted funds also have virtually unlimited capacity and relatively low cost.
"We believe indexed investments have an important role to play in investors' overall allocation to emerging markets," said Gaurav Mallik, chief portfolio strategist at State Street Global Advisors.

EM index managers typically face a range of headwinds, including higher trading costs and other market frictions, which can cause EM index funds to lag their respective benchmarks, he said. Best-in-class EM index managers, however, are able to compensate for these challenges through portfolio construction and efficient trading, especially around index rebalancing periods.
A traditional approach to portfolio construction has been the core-satellite construct, in which investors complement a pure market-capitalization indexed core with high active-share, fundamental stock-selection satellite strategies.
That said, many investors could also benefit from allocating to enhanced strategies at the core of their EM portfolio. Enhanced strategies are active approaches that use very low tracking error to seek a modest amount of outperformance while aiming to replicate the risk characteristics of their reference indexes. They pursue this modest outperformance by taking very small active positions that are away from the benchmark.
"Building an EM-focused enhanced strategy into the core of an EM equity portfolio can not only help reduce lag versus the benchmark, it can also help keep both risk and return characteristics consistent with a core allocation," Mallik said.
The opportunity in EM inefficiencies
Developed market and EM factor spreads suggest that emerging markets are relatively less efficient, which means that specific investment themes are more easily exploitable in EM than they are in developed markets.
"Our analysis of smart beta factor spreads illustrates these inefficiencies," Kassam said. "In particular, EM small caps present a ripe opportunity for active management to drive outperformance."
The size and variability of the EM small-cap universe yield fertile ground for a range of effective approaches to active stock selection. With more than 2,000 securities, the level of information flow and analyst coverage among EM small caps varies from virtually nonexistent — 25% of the MSCI EM Small-Cap Index universe has no analyst coverage ― to a level of coverage most often associated with large-cap developed market stocks. The median MSCI EM index small-cap stock is followed by only three analysts. In this environment, investors may derive value from active quantitative approaches that are able to exploit the full breadth of the small-cap universe to construct their portfolios.
China also invites attention because its A-share stock ownership is concentrated in the hands of retail investors. In general, A-shares tend to provide investors with more access to domestic consumption themes. Retail investor ownership should also lead to a less efficient A-shares market, which in turn may create greater alpha-generating opportunities for active managers.
For that reason "we don't think investors should stray too far from a broad, active approach to China, which provides flexibility for managers to allocate dynamically across sectors, capitalization buckets and stocks," Mallik said.
An 'optimized' EM portfolio allocation
"Our optimized EM portfolio includes enhanced strategies alongside indexing at the core," Mallik said. "In the satellite sleeve of the portfolio, we've included specific allocations to small-cap and Chinese equities, as well as highly active, higher tracking-error strategies. Based on these assumptions, we ran through a range of portfolio combinations to find an EM portfolio that was optimized for the highest information ratio," meaning the ratio of excess returns to active risk.
A sample optimized portfolio, shown in Table 1, has an active return of 1.16%, a tracking error of 0.80% and an information ratio of 1.44.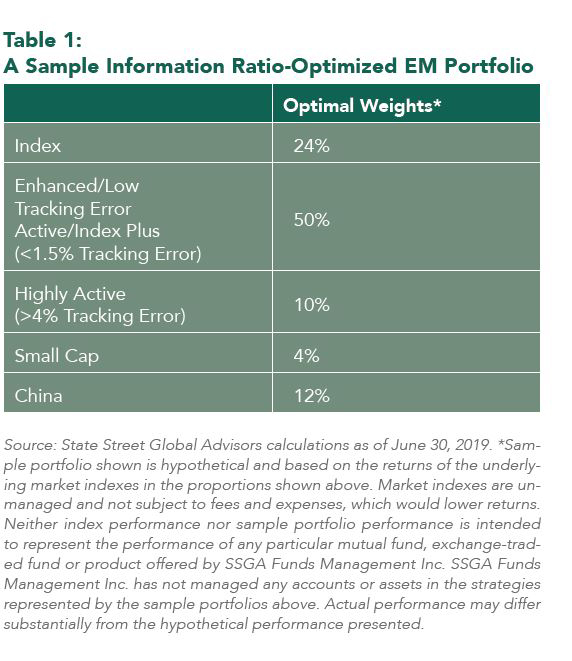 "By relaxing some of our constraints, we also identified some sample portfolios with higher levels of tracking error and greater return potential," Mallik said. Those portfolios are shown in Table 2.
"As we increase tracking error, we tend to allocate away from index and enhanced strategies and toward highly active, small-cap and China strategies," he said.
For example, sample Portfolio 2 in Table 2 targets around 2% tracking error to the EM benchmark.
Currency considerations
Emerging markets currency exposure is a byproduct of investing in EM equities; it impacts investor return and introduces additional risk. For example, buying the MSCI EM index includes exposure to an equity market capitalization-weighted basket of EM currencies versus an investor's home (or base) currency. This can have a substantial impact on returns. In fact, over the last 20 years, MSCI EM returns in U.S. dollars have regularly underperformed MSCI EM localized returns.
Institutional investors can hedge currency risk passively, but hedging costs can be prohibitively high ― ranging from 2% to 4.5% per year, depending on the home currency of the investor. Most investors choose not to hedge EM currency risk within their EM equity portfolios, citing these high costs.
"We believe that investors shouldn't dismiss downside risk management simply because it's expensive on average," Kassam said. "Our research shows that currencies ― which are very expensive to long-run fair value, estimated using a purchasing-power parity equilibrium model ― tend to have much greater crash risk."
Currencies also have wildly different hedging costs, and those costs change over time. By carefully considering each EM currency to balance several factors ― including its expected downside risk, the cost of hedging and volatility ― and using this assessment to focus hedging efforts, it is possible to better control downside EM currency risk.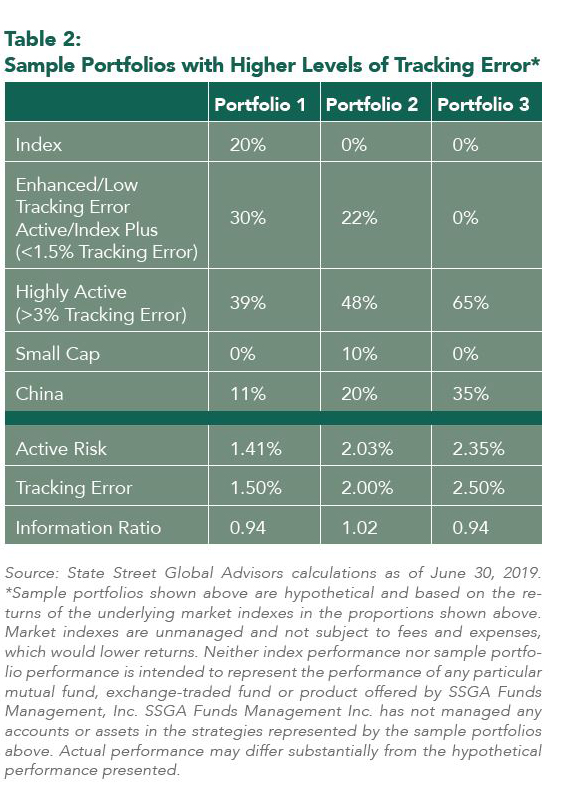 Building blocks
As emerging markets have developed, investors have many building blocks to choose from: index, enhanced, fundamental active, quantitative, thematic, regional, country-specific and so on.
"We recognize that a final equity portfolio involves a wide range of considerations that are unique to each investor, including liquidity needs, fees and risk tolerance," Kassam said. "These ideas ― indexing, enhanced strategies, active management and optimization ― should give institutional investors some of the tools they need to start thinking about portfolios equipped for the rising influence of emerging markets." •