Too much of a good thing: Excess and opportunity in corporate lending

For investors with longer time horizons who can tolerate the risks, opportunistic credit strategies may offer diversification benefits and attractive return potential.
By Neal Reiner and Christian Stracke
Ten years into the post-crisis economic recovery, investors must now contend with increasing evidence that the corporate debt markets may be overheating. With issuance levels, underwriting standards, and structured product demand all evidencing signs of strong excess, investors must ask themselves whether the corporate market lending arena has experienced "too much of a good thing."
Although investors have generally dismissed concerns amid benign economic conditions, we see risks on the horizon. Today's public below investment grade corporate debt market has reached an all-time high of $2.5 trillion while the relatively new sector of private lending has grown rapidly to $900 billion, exceeding the size of the high yield bond market in 2007.1 Moreover, the rapid increase in issuance – and the transition to new investors and leveraged vehicles to hold this debt – has led to deteriorating underwriting standards, weaker lender protections, and rising loan impairment risk. Corporate borrowers' leverage has reached a record high and credit profiles are weakening. Yet, the structured product and private credit investors that now dominate the market all have structural disincentives to holding underperforming debt. And alongside this credit deterioration, dealer liquidity has dropped dramatically since the financial crisis.
The combination of these fundamental (underwriting) and technical (ownership structure) risks may create not only an opportunity within public debt markets, but also significant disruption in the newly popular private middle-market debt market. A sharp oversupply of capital has accumulated as boutique direct lending managers have raised nearly $149 billion over the past three years alone to lend to middle-market companies, based on data from Preqin. This new capital has replaced lending by regulated, conservative bank programs and takes the form of leveraged vehicles: private debt funds, collateralized loan obligations (CLOs), and business development companies (BDCs). In addition to often utilizing significant leverage, many of these structures have strict credit ratings tests, require current yield, and may not be well-resourced to execute time-intensive debt restructurings. As a result, when the economy weakens, we expect many of these debt holders to need liquidity on their underperforming credit positions.
While a broad market downturn will likely broaden the investment opportunity, it is not a necessary condition for successful investment. Even in the current late-cycle economy we have been able to consistently identify cyclical challenges facing a range of companies and industries. Company-specific issues and/or industry micro-cycles often constrain the availability of capital for certain borrowers. For investors with the ability to source and evaluate those situations, this creates a range of opportunities.
---
This sponsored content was not written by the editors of the newspaper, Pensions & Investments, and does not represent the views of the publication, or its parent company, Crain Communications.
DOWNLOAD
WHITE PAPER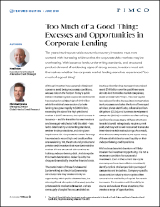 MORE INSIGHTS
A theoretical framework for
equity‑defensive strategies
Valuing a lost opportunity: An alternative
perspective on the illiquidity discount