Managers finding opportunities as markets tumble after U.K. votes to leave EU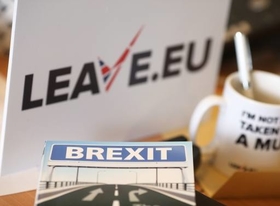 The U.K.'s shock decision to leave the European Union might have caught money managers unawares, but prudent planning ahead of the historic referendum vote means executives already have been able to exploit opportunities as volatility hit financial markets.
As the world woke Friday to the news that the U.K. had voted 52% in favor of leaving the EU after more than 40 years of membership, financial markets and currencies around the globe reacted. The FTSE 100 fell more than 7% within minutes of opening. The pound sterling dropped more than 10% against the dollar, at one point to $1.35 — its lowest point in three decades. U.K. gilt yields fell, while credit spreads widened.
After shock and surprise, the reaction from money managers has been to warn that the vote could push the U.K. fall into a recession and an extended period of uncertainty, exacerbated by David Cameron's resignation as prime minister on Friday morning.
But as their initial reaction passed, money management executives sprang into action, with some already executing investments where they see opportunity in light of the decision.
"We have taken some action," said Toby Nangle, London-based head of multiasset allocation, Europe, the Middle East and Africa, at Columbia Threadneedle Investments. In the runup to the referendum, executives at the £323 billion ($460.3 billion) money manager had been "lightening up on positions … not with a view to profiting from leave or remain, but rather seeking not to position client money to either outcome."
Mr. Nangle said executives at the firm spent significant time analyzing the potential market, policy and economic impact of referendum outcomes, with measures taken such as reducing equity risk and increasing non-sterling exposures in certain portfolios, enabling clients "to weather this better than (they) would otherwise have done," he said. "But as Mike Tyson put it: Everybody has a plan until they get punched in the (mouth). We did a lot of preparation so when those punches came we knew how to deal with them. Those plans have been very useful," and he said executives have in some areas found "new value."
Rory Bateman, head of European equities at Schroders in London, said on a June 24 conference call that the firm had made some moves in the immediate aftermath of the vote. "We need to act in the best interest of our clients and that means taking very difficult decisions in periods of extended volatility — so we have been doing things this morning." Mr. Bateman noted high correlation across assets following the result, with contagion within markets, and said it "feels undifferentiated." Executives are trying to differentiate to find opportunities. Mr. Bateman would not be drawn on positions and moves, but said "we will be, I can assure, very opportunistic given some of the sizes of the falls we have seen as the markets have opened up this morning."
Franklin Templeton Investments' David Zahn, London-based head of European fixed income, said the immediate reaction is a shock to the market, and a "bit of a surprise for ourselves." Beyond that, the money manager sees the outcome as an opportunity to look at sectors it likes, but that have been too expensive in the past to invest. "We are not making any immediate changes, but are waiting for any further fallout. The credit space has quite a bit of volatility, and we will look to exploit that."
The firm has "quite a bit of cash ready — we have been preparing so we have some cash available. In general, we felt the risk of a Brexit was underpriced in European markets especially, so we are looking for opportunities now that some of that risk may be priced more attractively," said Mr. Zahn.
While the U.K. remains part of the EU for at least two years as negotiations begin to untangle the country from the union, markets across the globe sold off in reaction to the vote and Mr. Cameron's resignation. New leadership expected in place by October.
U.S. Treasuries fell 25 basis points and the price of gold broke the $1,300 per ounce barrier as the news broke and investors fled to safe havens.
Asian markets sold off, with Japanese stocks taking the hardest hit. The Nikkei 225 ended June 24 down 7.92%, swelling the market's year-to-date plunge to 21.44%, as safe haven buying of the yen saw the dollar fall below the 100 yen level for the first time in more than two years. The yield on the 10-year Japanese government bond, meanwhile, fell further into negative territory, to -0.19%.
Hong Kong's Hang Seng index closed down 2.92%; Australia's S&P/ASX index dropped 3.2%; South Korea's KOSPI index fell 3.1%; Singapore's Straits Times index closed down 2.09% and China's Shanghai composite index fell 1.1%.
Money managers' immediate reaction to the news was of surprise and warnings.
"The biggest sadness of today is that it is reasonable to assume that the U.K. will quickly enter a period of economic recession, the key reason we believed the outcome would be different from what has materialized today," said Richard Buxton, head of equities and CEO at Old Mutual Global Investors, in a news release.
He warned that there seems to be a "real possibility that the result could contribute to tipping the U.S. economy into recession."
Arif Husain, head of international fixed income at T. Rowe Price, said in a release that the vote to leave could result in a global recession, putting chances at "above 50%."
The contagion of the decision was also noted by Saker Nusseibeh, CEO at Hermes Investment Management, who said in a news release that "we know that we are now in an even more prolonged super low-interest-rate environment outside of the U.K., with the U.S. likely to delay its decision to raise interest rates even further out."
Douglas Appell contributed to this story.