More News
Latest Slideshows
Special Report: ESG Investing
U.S. institutional assets in ESG investments are growing quickly, as asset owners and managers get more creative.
Companies and investors alike stand to benefit from more standard disclosure of ESG risks and the measures being taken to address them.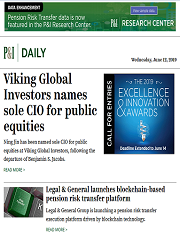 Sponsored Content
Partner Content
Advertisement
White Papers
Latest Poll
The trade gap between the U.S. and China stood at $30 billion in the second quarter, just below its four-month average of $32 billion.